Throughout The Pandemic, Residents Of The Large Cities Of Toronto And Hamilton Began To Lose Their Infatuation With City Living.
Sales in the core of Toronto fell early in the pandemic as residents escaped confined city living, but now that the city has re-opened, the market has picked up. As we emerge from pandemic restrictions, home prices within and in the surrounding cities of Toronto are now skyrocketing. Demand, low inventory levels, and record low interest rates have created a unique, red-hot real estate market. Many buyers have been priced out of single-family homes around Toronto and are either having to turn towards condos or move further out. But for many, the prospect of escaping city life is inviting.
Remote Workers Move To Niagara
With more people working remotely than ever before across Canada, city residents are taking advantage of their new work conditions. The Niagara region has seen an influx of residents from around Ontario, but particularly Toronto. City dwellers are looking for more space and better quality of living outside the big city. They are choosing this small town for its close-knit community vibe and beautiful environment. They are saying goodbye to crowds and hello to wineries and open spaces.
Get Listings in Your Inbox Every Morning
#1 Affordable Buying
Unlike cities closer to Toronto, Niagara still offers comparatively low property prices. Niagara Falls has an average home price of $693,393 while neighbouring St Catharines has an average sale price of $439,600. These prices are far more achievable when compared to the average home price in Toronto of $1,171,997.
#2 Access To Healthcare
The Niagara Health System cont clearfixains world-class medical facilities. There are multiple hospitals located in St Catharines, Welland, Port Colborne and Fort Erie. Residents here can easily access outstanding healthcare at one of these facilities or the many private physicians from wherever they live in the region.
Looking To Sell?
Find How Much Your Home Is Worth
See how much your home can sell for, today. You'll receive a different type of home valuation.
#3 Stunning Natural Beauty
The Niagara Peninsula has long been a destination for international travel and local weekend getaways. Beyond just the destination of Niagara Falls, there are hundreds of kilometres of walking trails, the Niagara Glen Nature Centre, some outstanding wineries, and access to amazing beaches. This region really has something to offer for everyone.
#4 Proximity To The Greater Toronto Area
While it may seem far, the Niagara region is still within easy access to the GTA. If you want to access concerts, high-end shopping, or sports games on the weekend, the city is under a two hours drive away. Hamilton and Buffalo are even closer
Moving to the Niagara region brings value to residents' lives while allowing them to access lower property prices. If you're looking to move to the area and make a lifestyle change, get in touch with a member of our team.
ready to take the first step?
Every Home Has A Different Design And A Different Story Behind It
It is my job to help my clients on their journey to creating a new story and that is what truly excites me about being a Realtor…every home and every new person you meet brings something new to your life.
Sell, Stay, or Buy
Want to take advantage of the hottest real estate market ever?
But think: "Where would we move to?"
Questions such as these we answer to you.
Call Or Text Us At:
236-237-265
Or give us a few quick details and we'll prepare a free valuation for your home! Start by entering your home address below and we'll send you a free printed guide or download a free pdf.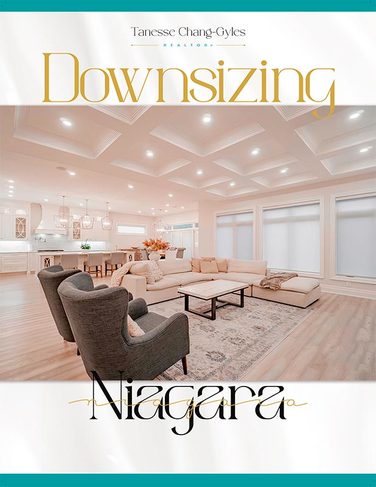 How to upsize into a bigger home
Free Seller's Guide
Comprehensive Real Estate
Downsizing Guide
Buying is easy as 1, 2, 3!
Let me help simplify your home buying journey…
Schedule a call
Schedule a one-on-one, no commitment consultation.
Create your plan
I will create a custom step-by-step plan that will get you the best deal on a new home.
Realize your goals
Decide if you want to hire me or do it on your own. Either way, you'll have the winning plan.