When you list with us you will love your listings
Our Marketing Sells Homes
Quick Home Market Evaluation
Thinking about selling your home? Get your free no obligation Home Evaluation.
We Know What Makes Your Home Sell
How It's Priced, How It's Displayed & How It's Marketed
Lifestyle Videos
Our unique, custom property videos have a viral effect. By strategically targeting the potential buyer demographic for your listing, they will typically attract thousands of views. Our videos are professionally filmed and edited, always.
AMAZING New Luxury Listings
Professional Photography
In addition to professional, high-definition photos, both drone and twilight photography will be used when appropriate. These visuals help capture your home's best features and showcase it in all of its elegance.
Get Listings in Your Inbox Every Morning
Your Home Deserves The Spotlight
Social Media Marketing Ads
Our listings are showcased on individual property pages within our website which allows us to capture potential buyer interest and easily share your listing details across multiple online platforms. We present your listing online by highlighting all marketing efforts, using large-scale professional photos of the property, and adding highlights such as floor plans, property features, and custom videos.
buyers get exclusive news and updates
A Database Of High-Quality Buyers
I have an expansive network of clients, realtors, and potential buyers who will receive visually appealing and relevant marketing about your listing.
tour this luxury townhome and get ready to be amazed: welcome to 605 welland ave
605 Welland Avenue Unit# 27
stunning lake views on grimsby, ontario luxury condo for sale
Unit# 404 10 Esplanade Lane
discover luxury living in 27 arbour vale common by pinewood homes in niagara
27 Arbour Vale Common
check out this amazing property tour in thorold ontario
62 Esther Cres
your home deserves the spotlight
146 Port Robinson
property tour of an amazing $1m house in niagara falls
9107 Kudlac Street
your dream home in the niagara region this 2023
19 Weatheright Heights
amazing duplex to invest in niagara real estate in 2023
1 Bessey Street
your home deserves the spotlight
335 Old Golf Course Rd
your home deserves the spotlight
Meet 32 Dufferin St Welland
your home deserves the spotlight
Meet 4 Bilanski Farm Rd
your home deserves the spotlight
Meet 1157 Kennedy, Fort Erie
your home deserves the spotlight
Meet 8776 Banting
Amazing New Luxury Listings
Digital Marketing
We use Facebook to advertise your home to over 100,000 people in your market and highlight its best features.
Instagram allows us to showcase the professional pictures of your home and visually engage potential buyers.
What We Provide:
HD / 4K Video & HDR photos
Luxury & International targeted marketing
Geolocated social media marketing
Demographic-specific targeted marketing
Staging consultations
Multi-Tier Targeted social media marketing
Print advertising in the local newspaper
Private showings by listing Agent(s)
Progressive email marketing campaigns
Industry-leading agent to agent network
With over 30.000+ industry connections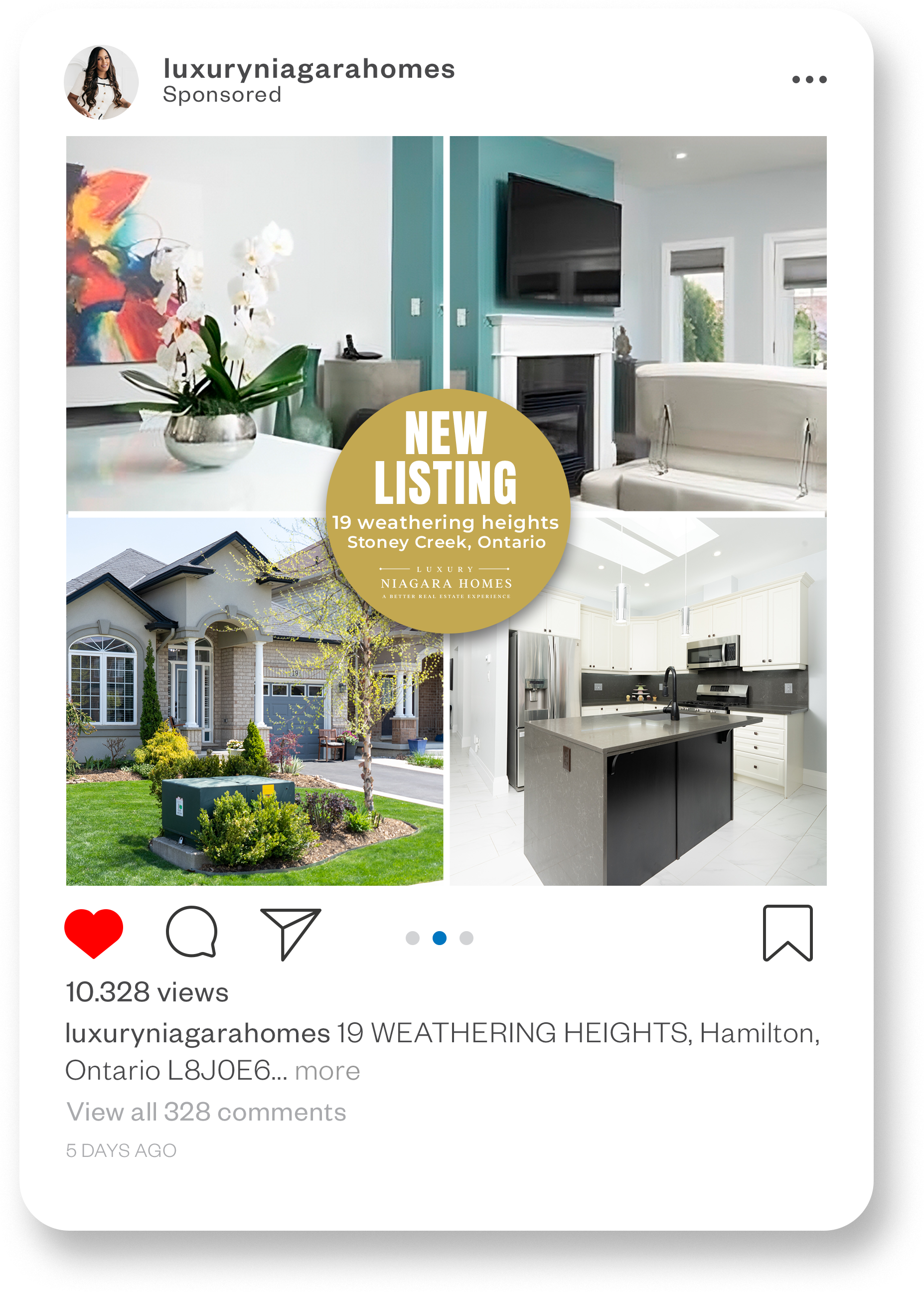 Our Services
Facebook Advertising: Harnessing the reach of Facebook, we introduce your home to a massive audience of over 100,000 people in your local market. Through carefully crafted ad campaigns, we highlight the best features of your property, driving interest and engagement.
Instagram Showcase: Instagram's visually appealing platform allows us to display stunning, professional pictures of your home, captivating potential buyers with its charm and elegance.
What Sets Us Apart = High-Quality Content: We pride ourselves on providing top-notch content to showcase your home in the best light possible. From HD/4K videos to HDR photos, our content elevates the visual appeal of your property.
Targeted Marketing: Our marketing strategies are precision-targeted to reach the right audience. Whether it's luxury buyers, international investors, or specific demographics, we tailor our efforts to maximize impact.
Geolocated Social Media Marketing: By tapping into geolocation data, we ensure that your property is seen by the most relevant local audience, increasing the chances of finding the perfect buyer.
Multi-Tier Targeting: Our multi-tier approach to social media marketing ensures that your home is promoted across different platforms and audiences, amplifying its visibility.
Staging Consultations: We offer expert staging consultations to present your home in the most appealing way, enhancing its attractiveness to potential buyers.
Print Advertising: In addition to our digital efforts, we believe in the power of traditional print advertising. Your property will also be featured in the local newspaper, reaching a broader audience.
Private Showings: Our dedicated listing agent(s) arrange private showings, providing personalized attention to potential buyers.
Progressive Email Marketing: Our email marketing campaigns keep potential buyers engaged and informed about your property's unique offerings.
Extensive Industry Network: With an impressive network of over 30,000+ industry connections, we ensure that your property gets noticed by fellow agents and brokers, broadening its exposure.
Why Choose Us:
Our marketing team is driven by a passion for real estate and a commitment to excellence. We take pride in staying at the forefront of digital marketing trends, enabling us to offer innovative solutions to meet your needs. With a keen understanding of the market and an unwavering dedication to client satisfaction, we are your trusted partner in making your property stand out and attracting the right buyers.
Get ready to experience the difference of our dynamic digital marketing services. Contact us today to explore how we can transform your property marketing and take it to new heights of success. Let's embark on this exciting journey together!

Buying is easy as 1, 2, 3!
Let me help simplify your home buying journey…
Schedule a call
Schedule a one-on-one, no commitment consultation.
Create your plan
I will create a custom step-by-step plan that will get you the best deal on a new home.
Realize your goals
Decide if you want to hire me or do it on your own. Either way, you'll have the winning plan.